By HEATHER GOLDSTONE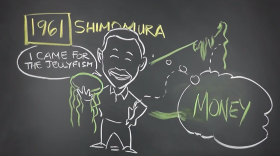 Ben McNeil thinks our science funding mechanism is fundamentally broken. Here's why, and what he thinks we should do about it.
Dr. Ben McNeil is a Senior Lecturer and Research Fellow with the Climate Change Research Center at University of New South Wales, in Australia. In addition to his research on how greenhouse gases are impacting the ocean and the economics of our energy systems, Ben is interested in big questions about how science gets done. He's currently finishing his second book, ShortThink, exploring the causes of short-term thinking. He's also founder of  Thinkable.org, a crowdfunding website aimed at supporting innovative research that is too risky to secure funding through traditional avenues.
Why do you think the funding model for scientific research is broken? 
The funding model for research relies mostly on government science agencies and a little bit of private philanthropy.  The hidden processes, namely anonymous peer-review, in place to fund research this way inadvertently creates large biases against either younger researchers and/or risky, ground-breaking transformational ideas.   This unfortunately has pushed the entire research ecosystem towards safer, incremental research with known short-term outcomes.  We need to give researchers – particularly young researchers – freedom again to push the boundaries of thinking rather than pursue safe, short-term projects.
Is the situation worse than it was, say, a decade ago? Or fifty years ago? How and why?
This wasn't the case thirty years ago.  Back then, researchers were given very modest funds, but were given total creative freedom to pursue big ideas. Your publication record had no role in allocating research funding. Today however, the competitive granting system is dominated by researchers' track records and publication rates. This creates a situation where young researchers are inherently less competitive, despite knowing that the biggest discoveries for humanity are dominated by researchers younger than forty. Even for experienced researchers, the publication obsession means that scientists think in terms of publications not in terms of innovation anymore. This is hugely problematic.
How can crowdfunding help address this situation?
By connecting with individuals and organizations to engage, fund and track research is a powerful way to give researchers a degree of freedom or autonomy outside the conventional system and to fund unthinkable ideas and young researchers once again.
more@
http://capeandislands.org/post/could-crowdfunding-rejuvenate-science